As a student, employee, or faculty member at College of Marin, your school email is accessed through Microsoft Outlook webmail. College of Marin users also have access to a full suite of Microsoft Office 365 applications including Word, PowerPoint, and Excel. The following guide provides information on how to access your email and Office 365 software through the MyCOM portal.
---
Accessing MyCOM Email
To access your MyCOM email, begin by logging into the MyCOM portal.  If you have not previously accessed the portal, follow the instructions in the First Time User Guide.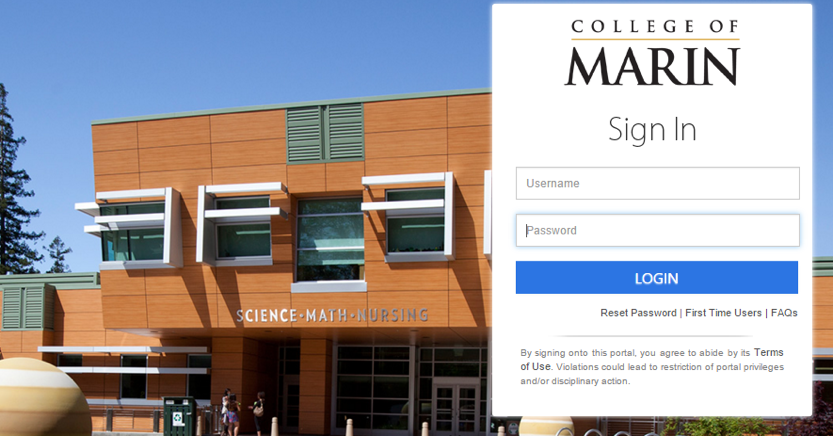 After logging into the MyCOM portal, you will arrive on your portal dashboard which displays icons for applications (apps) including Canvas, Office 365, and Webmail.

To access your college email, click the Webmail icon.
After clicking the webmail icon, you will be taken directly to your Microsoft Office 365 Outlook Inbox (shown below).  For detailed instructions on how to use Outlook, visit Microsoft's guide:
Getting Started in Outlook on the Web.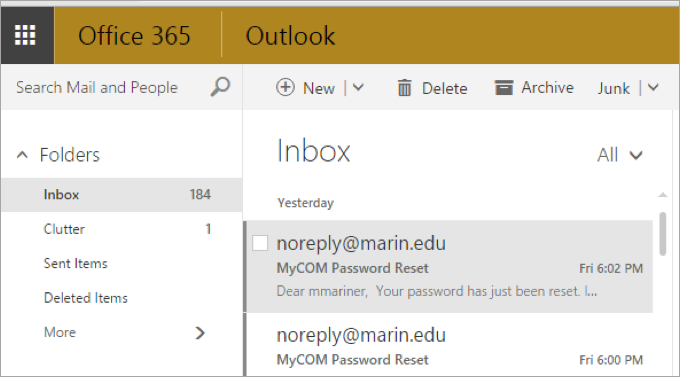 ---
Accessing Email from Mobile Devices
You also have option to access email at the following link: https://outlook.office365.com or by installing the Outlook app on your mobile device. For detailed instructions on mobile device access, view Microsoft's guides Office 365 mobile setup—Help.
To set up the mobile app or to login to Office 365 from a location other than the MyCOM portal, you will need to know your MyCOM email address and the password your MyCOM portal password. You can locate your email address by clicking your name or initials in the right corner of the MyCOM portal. Select the Profile link from the dropdown menu to see your profile details and email address.
NOTE
Student email addresses begin with your portal username followed by @mycom.marin.edu. Faculty and staff email addresses are their MyCOM username followed by @marin.edu.
Enter your school email address and MyCOM password to access your account into the Office 365 login screen.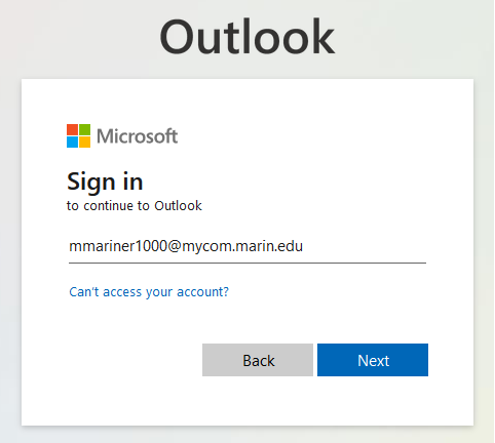 Click the Next button and you will be redirected to the MyCOM portal login screen.
If you need additional assistance accessing your email, please submit a ticket to the COM IT Service Desk.
---
Accessing Microsoft Office 365
In addition to Outlook, you have access to the full suite of Microsoft Office 365 applications and software including Word, PowerPoint, and Excel.

To access your Office 365 account, log into the MyCOM portal and click the Office 365 icon located on your portal dashboard.
On the next screen, you will find your Office 365 dashboard. The left side of the screen displays the icons for applications you have access to online.  Additionally, you will see the option to install the latest version of Microsoft Office onto your PC, MAC, tablet, or mobile device. You can install Office 365 on up to two personal devices.

To learn more about installing Outlook and other Office 365 applications on your personal devices log into outlook.office365.com.